Dubai is famous as a luxury holiday destination but is also home to many kilometers of snow-white, fine-sand beaches. If you don't explore the beaches in Dubai during your honeymoon, you will miss out on water sports, local fast food, shopping, and other thrilling activities.
Even though several beaches in Dubai are exclusive and connected with luxury residential complexes or resort hotels, the government has ensured that many beaches are accessible to the general public. Most of Dubai's shores are artificial, making them vast and flat with lovely white sand. The government takes great steps in the hygiene of these beaches; therefore, they are meticulously maintained.
Due to Dubai's extreme summer temperatures, many individuals travel to the beach following dinner and night. Further, winter is the peak season when several visitors flock to the beautiful beaches. Most of Dubai's beaches have basic amenities such as restrooms, changing facilities, and showers, and most designated beach parks also have patrols.
If you are planning for your Dubai honeymoon package and listing out the best beaches in Dubai, here is a list of seven beaches that are a must in your travel itinerary. Check below.
Seven Beaches In Dubai
1. Jumeirah Beach Dubai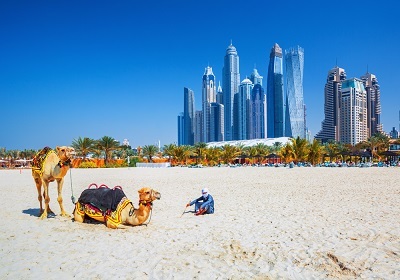 Jumeirah Beach is among the most popular tourist destinations in Dubai and beaches in Dubai Marina and is prominent for its white beaches. The clear, smooth grains let your feet sink in immediately.
Enjoy a breathtaking perspective of the seven-star Burj-Al-Arab, which is located against Dubai's coastline and is a sight to see. The best time to visit is at dusk, when the sands are a rich golden shade, and the water is delightfully warm. The sand is powdered white and soft. Additionally, guards on patrol and buoys distinguish specified swimming zones. Although the beach is accessible throughout the night, swimming is prohibited after sunset.
2. Kite Beach In Dubai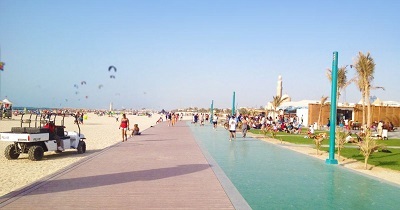 Kite Beach is situated across the Al Manara Road intersection. Annually, tens of thousands of people visit the beach to engage in kitesurfing and other sporting activities in Dubai. The beach got its name from this, and the shore is family-friendly and bustling with vacationers year-round. Hence, it is one of the best beaches in Dubai.
The softness and cleanliness of the sands, together with their pure white color, will soothe your spirit. The beach also offers a magnificent perspective of the Burj-Al-Arab. In addition to kite surfing, one can enjoy additional activities such as beach volleyball, beach tennis, kayaking, and even soap football.
In addition, several amenities make your visit here enjoyable. There are several incredible resorts in Dubai where you would stay and unwind. Kite Beach is particularly well-liked by Dubai gourmet due to the abundance of food trucks that cluster there both during the day and at night.
3. Marina Beach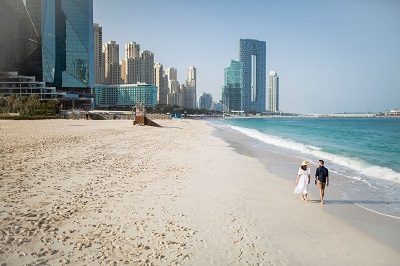 Marina Beach provides tourists unexpected yet fascinating experience as it combines a cityscape lined with skyscrapers with a length of beach washed by blue seas. With its pristine beaches, beautiful blue waves, opulent atmosphere, and breathtaking skyline, Marina beach charmingly entices tourists to engage in its numerous relaxations and allures.
The availability of various cafés, jogging paths, and colorful stores embodies its picturesque ambiance with an immensely welcoming air. It is among the most distinctive beaches in Dubai and the United Arab Emirates due to activities including camel rides on the dunes and a nighttime stroll with dazzling views of the Marina skyline.
You may spend a day here soaking in the sun and lounging in the sand's companionship. Moreover, a nighttime cruise will allow you to watch Dubai's most breathtaking cityscape. Staying at one of Dubai's premium beach resorts will make your trip to Marina Beach a genuinely luxurious experience.
4. Nikki Beach In Dubai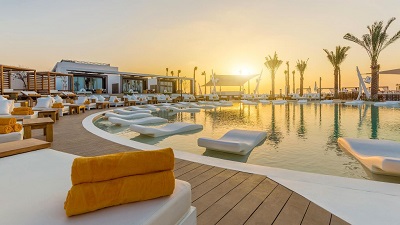 Explore Nikki Beach in Jumeirah to appreciate the Arabian Gulf's beautiful waters and breathtaking panorama. This stretch of golden sand, the portion of Nikki Beach & Spa, the first club in Dubai, will provide you with an unrivaled beach experience. Further, there are choices for opulent day beds, delectable food, and exciting beach parties.
If you are seeking adventure, participate in water activities like canoeing, windsurfing, etc. Enjoy water activities like canoeing, windsurfing, etc., relax in the resort's spa, relax in one of the resort's gorgeous ocean villas, or swim in the clear seas.
5. Cove Beach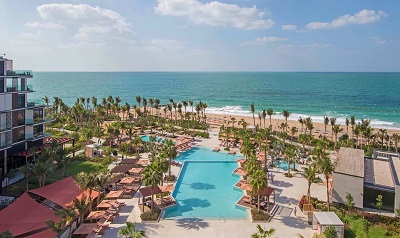 Enjoy the ideal beach enjoyment at Cove Beach, one of the top beaches in Dubai. Rent a premium sunbed and spend time unwinding. Additionally, feel the silky sand under your feet as you enjoy the sunshine and take in the magnificent vista of the Arabian Gulf.
Eat some delectable fresh seafood on the shore and drink some delightful juices while you experience the sea breeze's refreshing coolness. Further, you may attend beach parties for a thrilling evening of enjoyable music. Enjoy exquisite seafood in the beautiful eateries, and indulge in excellent beverages in the lounge.
6. Al Mamzar Beach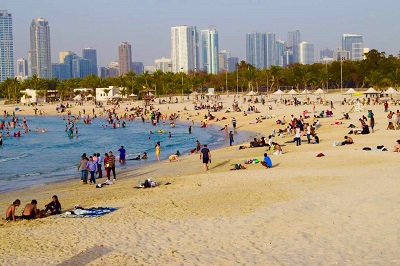 Al Mamzar Beach is another one of those beaches in Dubai that newlyweds, explorers, and travelers all like equally. Moreover, it is a hidden treasure you must uncover on your trip to Dubai. The tranquil beach park offers a stunning setting.
Furthermore, you will have a pleasant and relaxed time by the shore with your loved ones because of the beach park's cutting-edge infrastructure, decorated with blue hues from the ocean and green shades from palm and coconut trees. You may get many delectable dishes at various eateries and snack bars here.
7. Azure Beach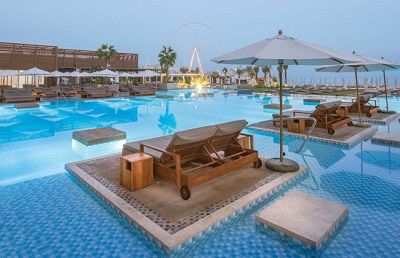 Dubai is the ideal vacation spot for beachgoers who want to get away from the hustle and bustle of the city and experience the most breathtaking views and sensations that Azure Beach offers. Another example of the infrastructure showcasing the amenities you may find in Dubai is the elegantly created beach area.
Azure Beach offers a variety of experiences. You can decide whether you want to celebrate in the most picturesque location or enjoy the day lounging by the water.
Final Say
You will indeed have a great honeymoon on one of these beaches in Dubai. Make sure to include these beaches in your honeymoon itinerary.